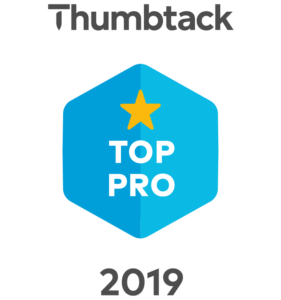 We're excited to announce that we've been named a Top Pro on Thumbtack for 2019. To be a Top Pro, a professional must have a track record of delivering exceptional experiences. The Top Pro program celebrates professionals dedicated to delivering outstanding customer experiences on Thumbtack. We're super excited and grateful to be honored! See what co-founder & CEO Marco Zappacosta had to say below!
Hi Floor Doctors,

You did it. You made Top Pro, class of January 2019.

That means you're officially among the best pros on Thumbtack. You're responsive. You do exceptional work. You're the kind of pro people come to Thumbtack to find.

This is well-earned. Only 4% of pros made Top Pro this round. Be sure to connect with them in the pro community.

Congrats again,

Marco Zappacosta
Wow, what an honor! Needless to say, we are totally excited to be taking over 2019 with so much growth and achievement!  Thank you to all of our clients who have hired us, and another heartfelt thank you to those who go above and beyond by leaving us a review!! Your time, your words, and most importantly your trust, mean the world to us and we want nothing more than to keep impressing you!
Thanks,
Floor Doctors